"It's a soft day,"as the Irish would call it. In my opinion, there's no better time to curl up with a good book and some comfort food!
And it seems that I've been doing just that lately...In anticipation of a very busy week ahead, I spent Sunday prepping some quick, freezer friendly comfort food including Crock-Pot Turkey Chili.
Crock-Pot Turkey Chili
1.3 lbs. Shady Brook Farms 97/3 lean ground turkey
1 24 oz. can crushed tomatoes
3/4 c. kidney beans
1 bottle beer
2 c. water
3/4 c. beef broth
1 chopped small onion
3/4 chopped green pepper
Chili powder, salt, pepper to taste
Nothing could be easier- throw it all in the crockpot on high for 6-8 hours.
I haven't been able to find a real recipe to follow each time I make chili, but this one seems to include the all the basics.
A big thanks to the Sailor, chef extraordinaire, who experiments to find just the right amount of spice after I throw all of the ingredients everything together.
I also made
Sweet Potato Shepherd's Pie
for the first time using a recipe from
Skinny Taste
. One note of caution though-- The recipe calls for three cloves of garlic in the sweet potatoes. We found that was waaay too much. I'd suggest using just one or two cloves.
Via Skinny Taste


And here's what's been on my reading list over the past couple of weeks:

The Pilot's Wife...Obvious statement: Probably not the best book to read on a plane. That setting certainly heightened my level of anticipation/anxiety when reading it though! Suspenseful story line with a predictable re-bound "romance."


"A pilot's wife is taught to be prepared for the late-night knock at the door. But when Kathryn Lyons receives word that a plan flown by her husband, Jack, has exploded near the coast of Ireland, she confronts the unfathomable-one startling revelation at a time. Soon drawn into a maelstrom of publicity fueled by rumors that Jack led a secret life, Kathryn sets out to learn who her husband really was, whatever that knowledge might cost. Her search propels this taut, impassioned novel as it movingly explores the question, How well can we ever really know another person?"- Amazon
The Book of Fate...Didn't get great reviews, but I thought it was a page-turning political thriller. Written smartly with lots of twists and turns in the plot.
" Brad Meltzer's #1 New York Times bestseller featuring a two-hundred-year-old code devised by Thomas Jefferson and a present-day conspiracy at the highest level of power .
"Six minutes from now, one of us would be dead. None of us knew it was coming."
So says Wes Holloway, a young presidential aide, about the day he put Ron Boyle, the chief executive's oldest friend, into the president's limousine. By the trip's end, a crazed assassin would permanently disfigure Wes and kill Boyle. Now, eight years later, Boyle has been spotted alive. Trying to figure out what really happened takes Wes back into disturbing secrets buried in Freemason history, a decade-old presidential crossword puzzle, and a two-hundred-year-old code invented by Thomas Jefferson that conceals secrets worth dying for." -Amazon
The Beach House...A true beach book. Quick read. Not terribly fulfilling or suspenseful, but entertaining nonetheless if you're sitting by the pool/on the beach sipping cocktails.
"Jack Mullen is a driven student of the law. His brother Peter is a servant of the rich, parking the cars of the Hamptons' elite-and perhaps satisfying their more intimate needs as well. Then Peter's body is found on the beach. Jack knows the drowning was no accident, but someone's unlimited power and money have bought the cops, the judges, the system. Now Jack is learning a lesson in justice he never got in law school ... and his astonishing plan to beat the billionaires will have you reeling-and cheering-to the very last page."- Amazon
Hemingway's Girl
...Saved the best for last! Rich scenery and complex characters and relationships. Erika Robuck has another novel coming out in May 2013, and I can't wait to read it!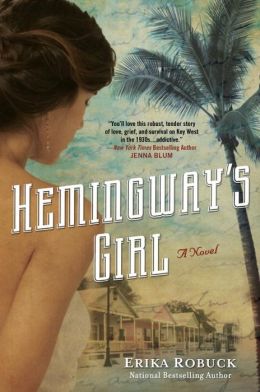 "In Depression-era Key West, Mariella Bennet, the daughter of an American fisherman and a Cuban woman, knows hunger. Her struggle to support her family following her father's death leads her to a bar and bordello, where she bets on a risky boxing match...and attracts the interest of two men: world-famous writer, Ernest Hemingway, and Gavin Murray, one of the WWI veterans who are laboring to build the Overseas Highway.
When Mariella is hired as a maid by Hemingway's second wife, Pauline, she enters a rarified world of lavish, celebrity-filled dinner parties and elaborate off-island excursions. As she becomes caught up in the tensions and excesses of the Hemingway household, the attentions of the larger-than-life writer become a dangerous temptation...even as straightforward Gavin Murray draws her back to what matters most. Will she cross an invisible line with the volatile Hemingway, or find a way to claim her own dreams? As a massive hurricane bears down on Key West, Mariella faces some harsh truths...and the possibility of losing everything she loves." - Amazon